AAC announces the launch of the CyberEngine X-axis linear motor Redmi K50
On January 18, AAC Technologies officially announced the launch of the new CyberEngine ultra-wideband X-axis linear motor, the product model is 1016, the size reaches 10*16*3.5mm, and the volume is 560 cubic millimeters, which is the largest X-axis linear motor in the Android camp.
According to the officially announced parameters, the steady-state vibration of the CyberEngine reaches 1.1Grms, which is equivalent to 1.88Grms of conventional X-axis linear motor, which is 3 times higher than the original X-axis linear motor. In addition, the effective bandwidth of CyberEngine is 50Hz-500Hz, which can greatly improve the richness of vibration effects and provide different touch experiences.

It is worth noting that AAC also said that the CyberEngine is a motor with a more comfortable vibration frequency. Its resonant frequency F0=130Hz meets the haptic feedback industry's generally considered "most comfortable" experience parameters, which is also Android's first X-axis linear motor that can make F0 130Hz
The Redmi K50 series will be equipped with CyberEngine for the first time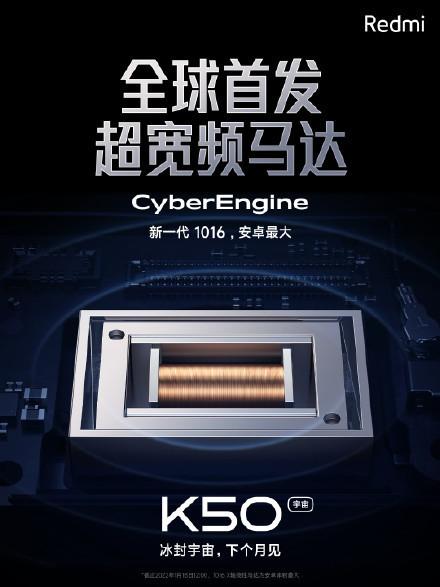 In addition, Redmi also announced for the first time that the K50 series will be equipped with CyberEngine, and this product is expected to be released after the Spring Festival.
Recommended Reading: Motor