(June 5, 2021, Shenzhen) EcoFlow Zhenghao, the world's leading brand of mobile energy storage, today officially released the DELTA Max outdoor power supply, adhering to the research and development concept of "awakening potential", to achieve more capacity, faster charging efficiency, better safety and cooler power consumption process and other important upgrades, creating a smarter and more comprehensive professional outdoor power supply, and continuing to bring users a better, friendlier and more secure convenient power experience.
De DELTA Max will be the de DELTA series
The professional level has been upgraded again,
The capacity is as high as 2016Wh, about 2 kWh of electricity, and 1-2 smart power packs can be connected to achieve 4032Wh or 6048Wh expansion. Although the capacity is increased, the DELTA Max can still be fully charged in 1.6 hours when charged under 220V mains power, and the charging rate is increased again. With a power rating of 2400W, the DELTA Max supports the X-Boost intelligent inverter function, which can be easily driven even with loads up to 3000W, supporting 99% of the equipment power supply. Powerful power supply functions provide power guarantee for outdoor travel, home energy storage, film and television shooting, emergency power replenishment of new energy vehicles, emergency rescue, outdoor operations and other fields.
Wang Lei, founder of EcoFlow, said: "DELTA Max is another masterpiece of EcoFlow Zhenghao to bring users convenient power consumption anytime, anywhere, comprehensively improved power supply performance, and integrates larger capacity, faster charging rate and more comfortable power experience, allowing users to use it without worrying about power. It is believed that whether it is outdoor electricity or household energy storage, or industrial operation electricity, DELTA Max will be the user's right-hand man. At the same time, clean and low-carbon electricity consumption also allows us to work with users to help the goal of 'carbon neutrality'." "
The capacity is doubled, and the 1.6-hour full power commitment remains unchanged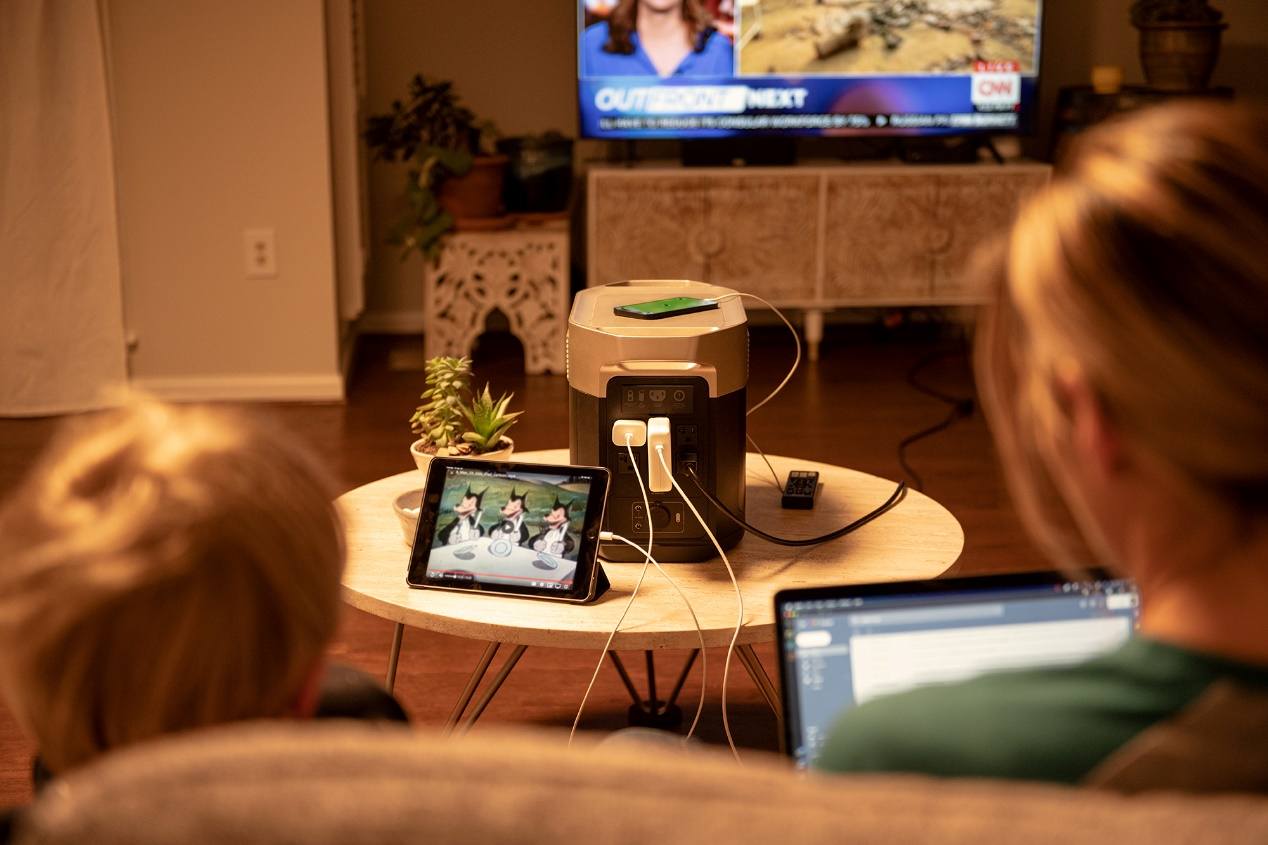 DELTA Max has a large capacity of 2016Wh, and can be connected to 1-2 smart power packs to achieve a capacity span of 2016Wh-6048Wh (2-6 kWh), meet the power needs of camping for about 8 people a day, and can also support the power consumption of roadshows such as concerts of about 200 people, and can also meet the lighting and equipment electricity consumption of a professional film and television night shooting. The large power reserve makes outdoor electricity more secure and less anxious.
Although the capacity of the DELTA Max has doubled, it still continues the fast charging tradition of EcoFlow Masahiro. Under the 220V mains power, through the X-Stream flash charging patent technology independently developed by EcoFlow, the charging time of DELTA Max stand-alone power 0%-100% still takes only 1.6 hours, which is equivalent to 1.6 hours to fill 56 10,000 mAh charging treasures; the charging time of 0%-80% is only 1 hour, and the fast charging power can reach 2000W. The charging rate is increased again, so that outdoor electricity consumption does not have to wait.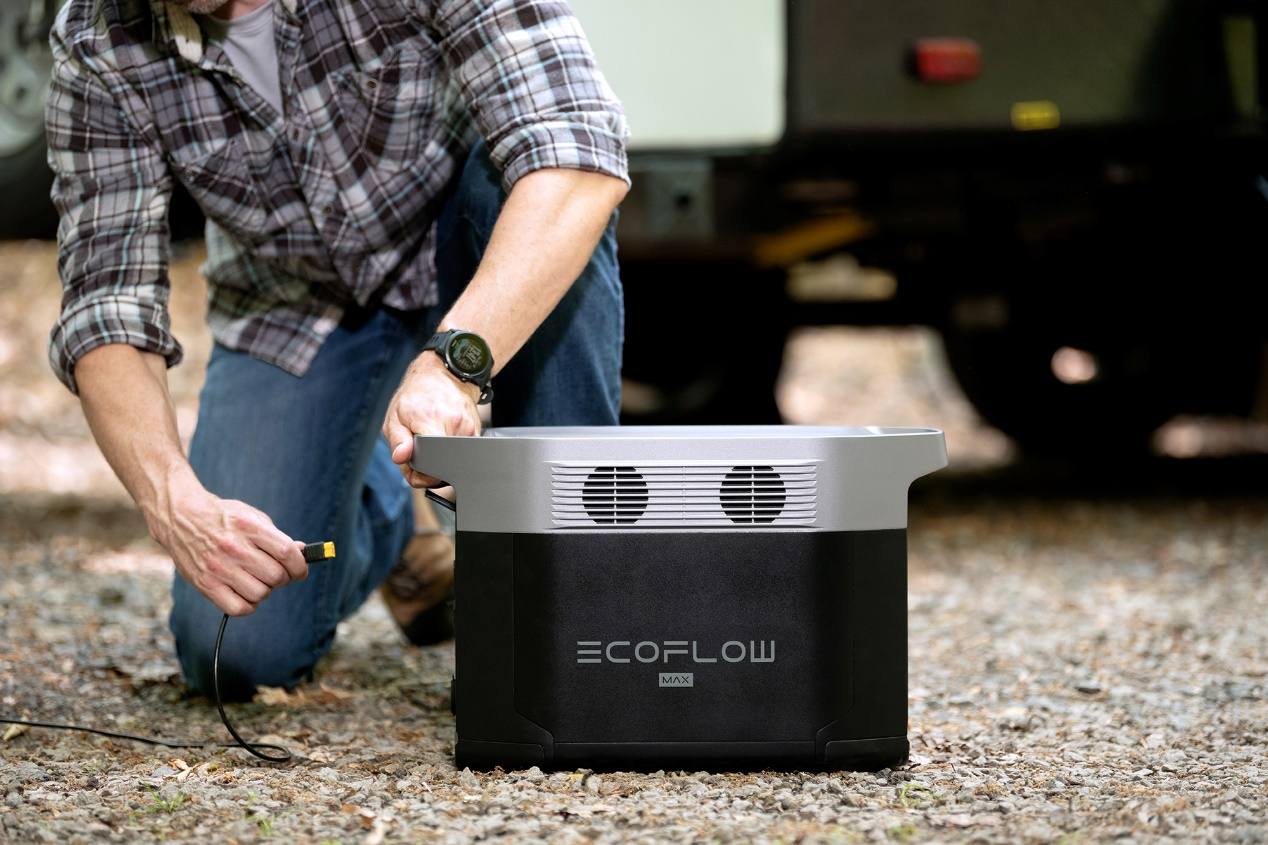 It is worth noting that under the dual fast charging technology of X-Stream AC fast charging technology and solar charging, when the mains power and solar panels are connected at the same time to charge the DELTA Max and DELTA Max intelligent power pack, a maximum of 3000W of dual charging power can be achieved.
In addition to 220V mains charging, DELTA Max also supports car charging, solar charging panels, oil-powered power packs and generator charging, and outdoor power can be replenished anytime, anywhere.
X-Boost intelligent inverter, multiple groups of high-power electrical appliances can easily cope with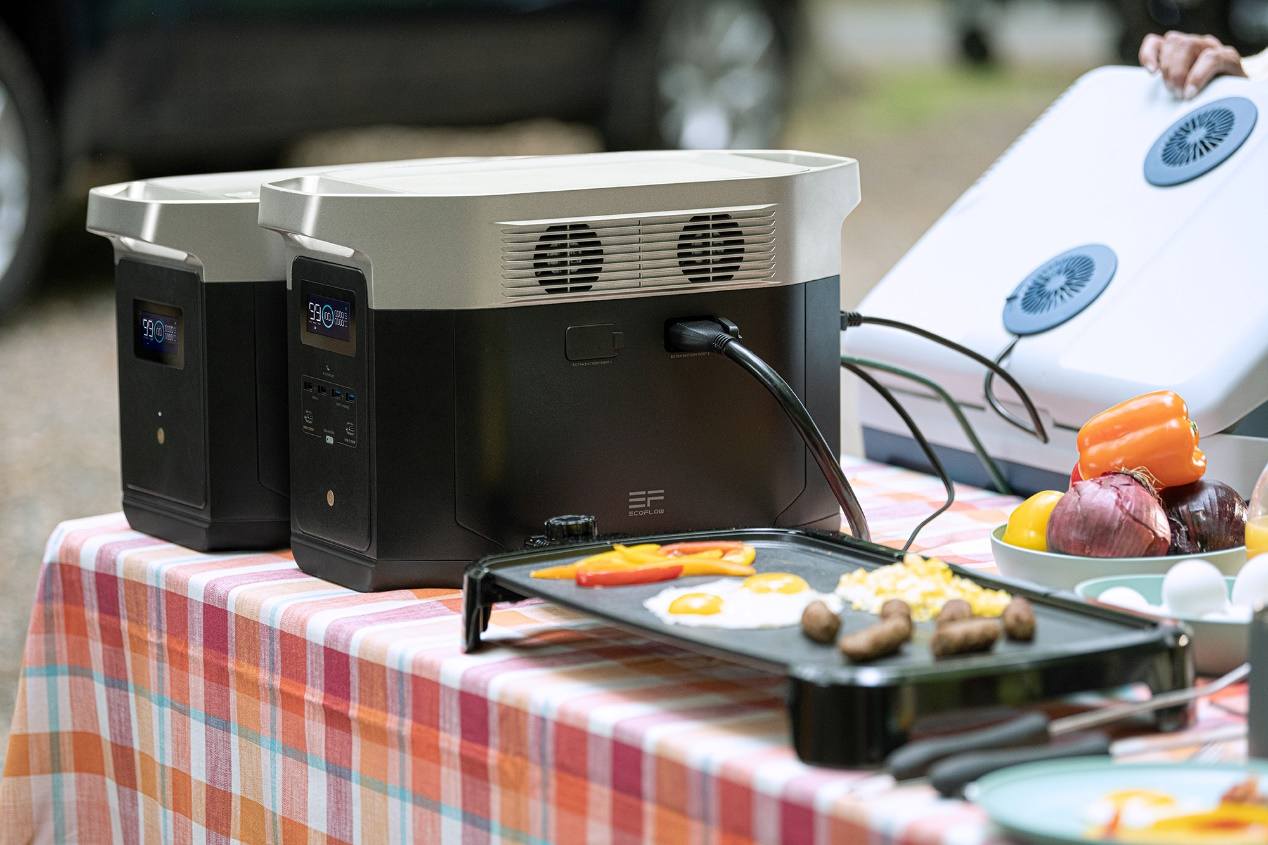 DELTA Max has a rated AC output power of 2400W and a peak value of 4600W; With X-Boost technology, the DELTA Max can easily drive loads of 3000W. Compared with DELTA can drive 1 induction cooker + mobile phone, camera, tablet and other electronic equipment power supply capacity, DeDELTA Max goes to a higher level, can drive 2 induction cookers or 2 same high-power power equipment at the same time, and then charge multiple electronic devices, easily meet the power demand of multiple equipment and high power, and achieve 99% of daily equipment power supply.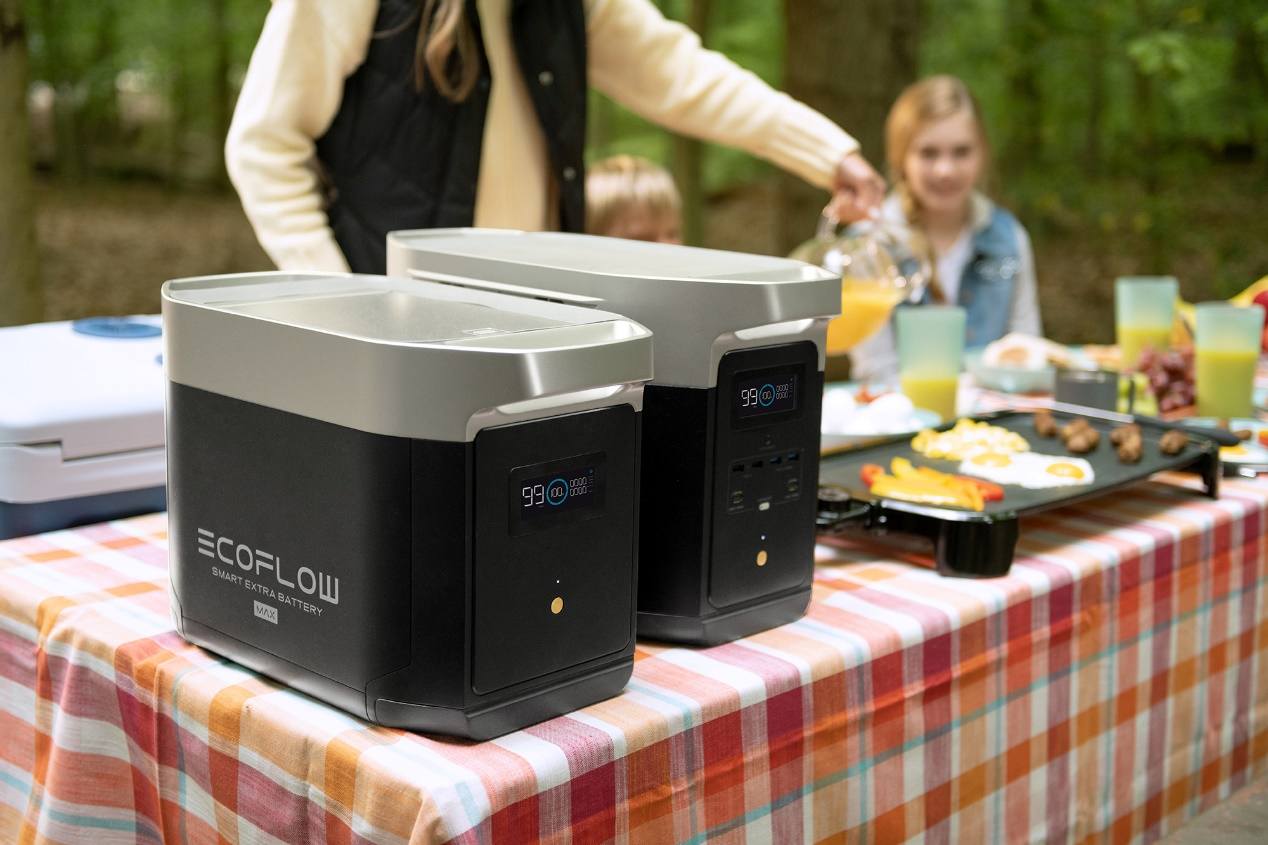 All kinds of ports are available, and 13 devices can be powered at the same time
DELTA Max supports AC and DC output, and supports 100W fast charging output; It has 13 output ports, including: 4 220V GB AC output ports, 2 12W USB-A ports, 2 18W USB-A fast charging ports, 2 100W USB-C fast charging ports, 1 126W car charging output port and 2 DC5521 ports; The number of ports is large and the variety is complete to meet the power needs of different types of electrical appliances. Moreover, the DELTA Max can be used while charging, and the charging and electricity consumption are not wrong.
Multiple protection system, safety and durability upgraded
DeDELTA Max adopts Texas Instruments high-precision chip + high-rate automotive-grade power cell + EcoFlow Zhenghao's unique multiple protection algorithms, and monitors voltage, current and temperature changes in real time through the BMS battery management system, and adjusts and optimizes the operation of the entire battery system in time, which can maximize the safety of battery use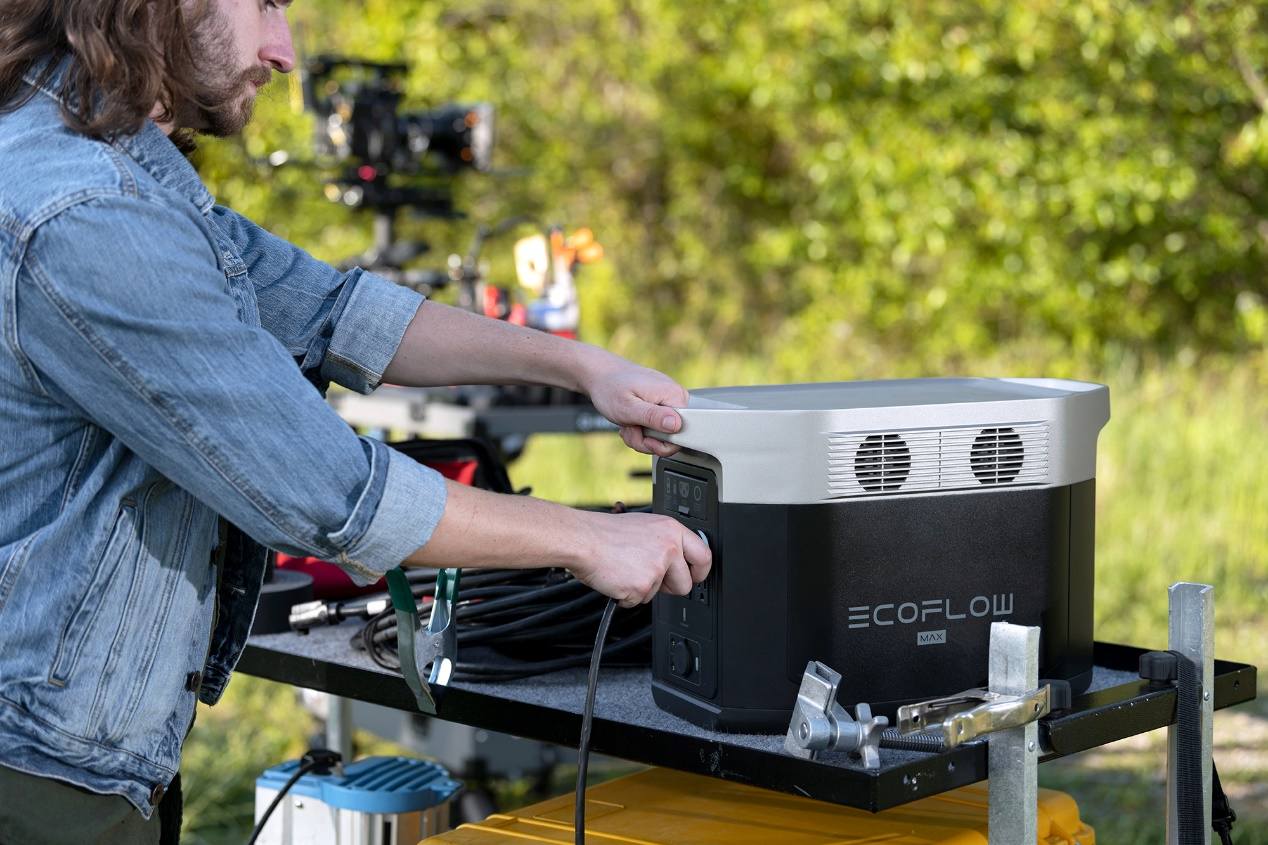 and make sure
After the battery is recycled 800 times, the battery health is basically maintained at more than 80%.
EcoFlow has also optimized the exterior and interior design of the DELTA Max, greatly improving its reliability and durability.
In terms of external design, DELTA Max adopts the highest level of fireproof and heat-resistant materials, and the integrated design effectively improves the anti-fall and anti-drop ability of the power supply; And the power port is reinforced for more stable multiple plugs. CLEVERLY DESIGNED, THE DELTA MAX AND SMART POWER PACK CAN BE STACKED AND USED MORE SECURELY AT THE SAME TIME.
In the internal structure design, DELTA Max upgraded the steel plate and aluminum alloy frame structure, so that the internal structure is better stressed and more resistant to falling; At the same time, the internal modular design also reduces the difficulty of maintenance.
Breaking the tradition, 400W portable solar panel charging is more environmentally friendly and inclusive
In order to strengthen the environmental protection and inclusive power supply capacity of DELTA Max and improve the efficiency of solar charging, EcoFlow Zhenghao has launched a new 400W high-power portable solar panel. DELTA Max supports up to 800W power solar fast charging, which is equivalent to supporting up to two 400W solar panels connected to charge at the same time, achieving 3-4 hours of full charge, compared with the previous low-power solar panels, the charging time is nearly 2 times. In addition, the power supply can be widely adapted to most 11-100V solar panels on the market through the MC4 connector, realizing the efficient use of accessories.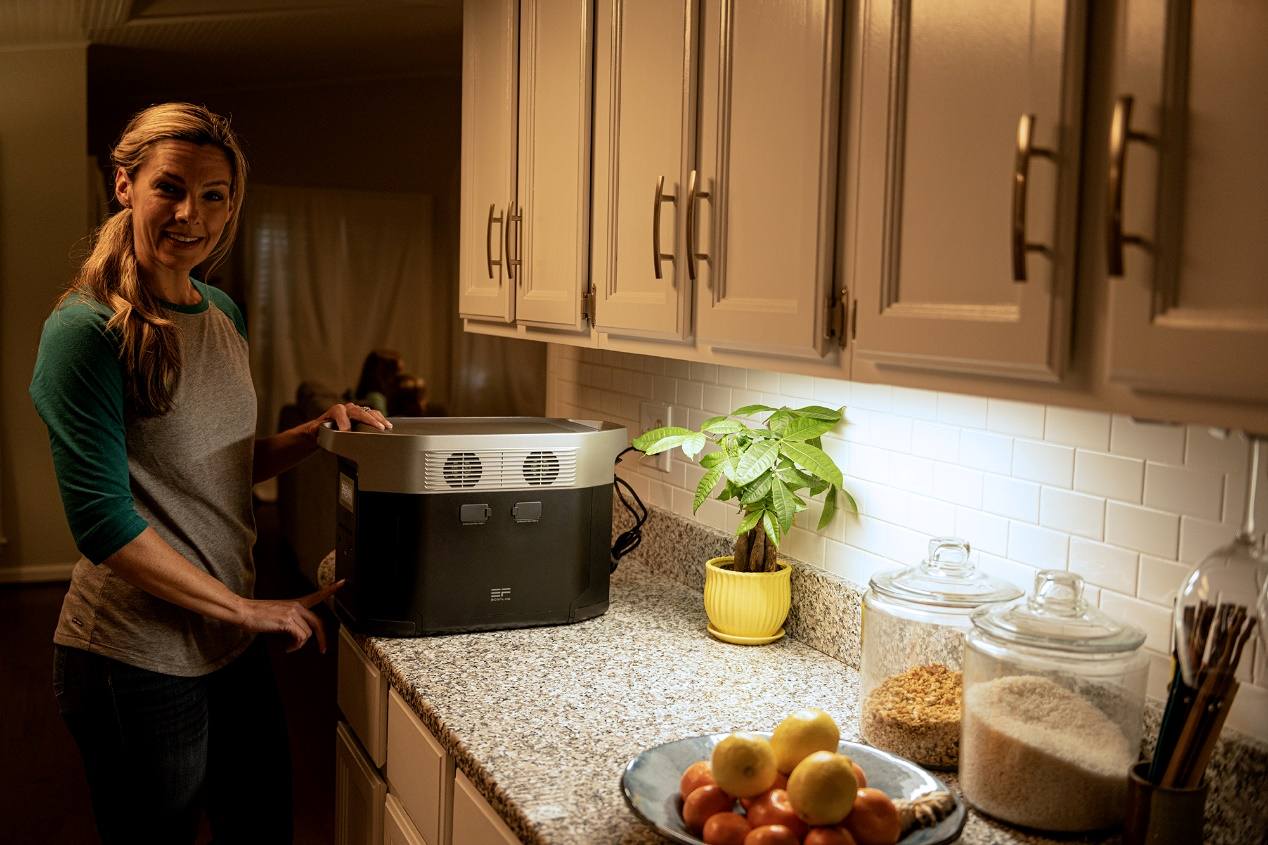 In addition, in order to assist the efficient charging of solar panels, EcoFlow Zhenghao will soon launch a solar tracker, which uses MPPT (Maximum Power Point Tracking) intelligent algorithm to actively monitor the sun in real time and obtain the best light angle, so that solar panels can get the best charging performance under different weather conditions, so stay tuned.
App intelligent control upgrade Q&A, intimate service anytime, anywhere
DELTA Max is newly adapted to the EcoFlow App for remote intelligent control. Users can obtain real-time adjustments to the remaining power, working time, temperature, charging mode, function switch and other operations in EcoFlow App; It can also customize the charging power in the range of 200W-2000W to obtain a quieter charging effect. At the same time, users can perform OTA upgrades for DELTA Max through the EcoFlow App to continuously improve the user experience. In addition, EcoFlow App can also collect users' usage questions in a timely manner, quickly answer questions, and escort users throughout the power process.
Offering and after-sales
DELTA Max is priced at 11,999 yuan, with a national warranty of 2 years, EcoFlow Zhenghao Tmall, Jingdong flagship store and other partners officially pre-sold from now on, and officially shipped on June 18.
Buy from now to June 15 to enjoy the initial price of 9999 yuan.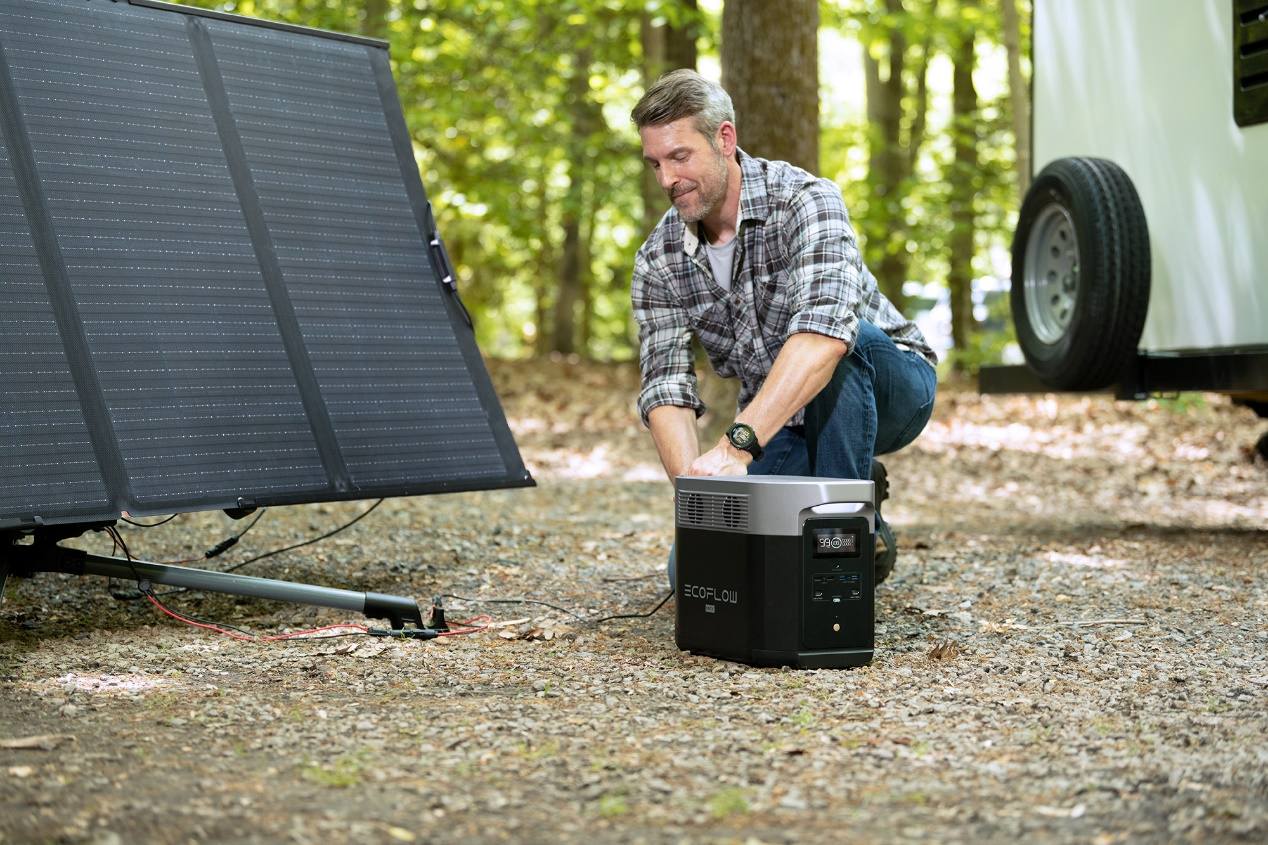 #关于EcoFlow正浩
EcoFlow Zhenghao is committed to providing global users with clean and inclusive electricity consumption, and through continuous technology research and development and product innovation, to create clean energy storage power stations, bring users a friendlier electricity experience, and accelerate the global popularization of clean energy.